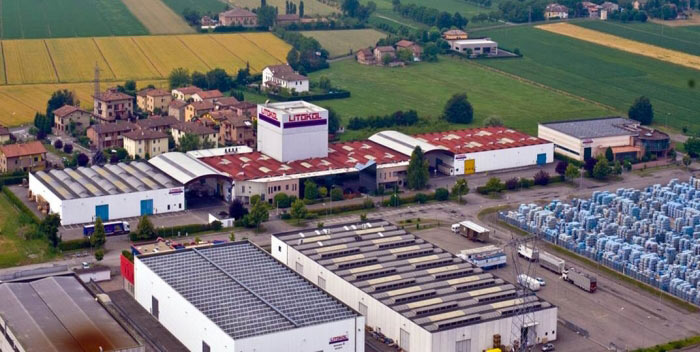 The story of our company is directly linked to the development and the diffusion of the Italian ceramic products.
When Litokol started the production of an adhesive for ceramic tiles in 1986, the market had great difficulties accepting an innovative product that came into conflict with the traditional laying systems. In the course of the decades the distribution of the Litokol products established itself on the national and international market thanks to a supply of products and services that increased step by step as the company grew. Today, Litokol's large company site features computerized production lines, labs, an automated warehouse, a training centre, a showroom, sales, marketing and administration offices.
For the last 40 years, the layout of catalogues and the press campaigns features in magazines have shown our brand in a variety of contexts. Communication has been improved and extended together with the growth of our product range.
The image of the company has also grown and evolved, from the picturesque graphics of the 70's to technical catalogues and instruction manuals in different languages to the magnetic supports and comprehensive technical data sheets ready to be downloaded from the Internet. Hand in hand with the development of all company departments, the Litokol brand has also undergone a slight change in the graphics without distorting its original meaning. From ancient Greek "lithos" means "stone" , Litokol: adhesive for stone.
The most significant stages of our history
1968: the birth of Litokol s.r.l. 
1970s: the company began to establish relations abroad in its powerful drive for internationalisation
1978: the company was the first in the sector to develop a range of adhesive pastes ready for laying
1984: Litokol brought to market the Genesis profiles, introducing a whole new concept for the time.
1994: the company moved to its current site in Via Falcone, Rubiera (RE)
1999: Litokol Plus was established in Kiev, Ukraine. This was a trading company with offices and storage facilities for nationwide distribution of Litokol's products
2002: the  Litokol o.o.o.production site was inaugurated in Noginsk (60 km outside Moscow) Russia
2004: the revolutionary Starlike® epoxy sealant was created and internationally patented
2008: inauguration of the Litokol Training Center where meetings and training courses are held
2009: inauguration of Litokol AM, a new production site in Yerevan (Armenia)
2009: extension of the Research and Development laboratory, with new premises annexed to Litokol's main site
2010: production was doubled in Russia: a "twin" production site was set up in Noginsk
2012: the Litokol Shanghai Trading Company started up in China
2013: the new "Starlike Division" was inaugurated in Rubiera (RE), on the occasion that the Starlike® Monomix one-part sealant was launched.